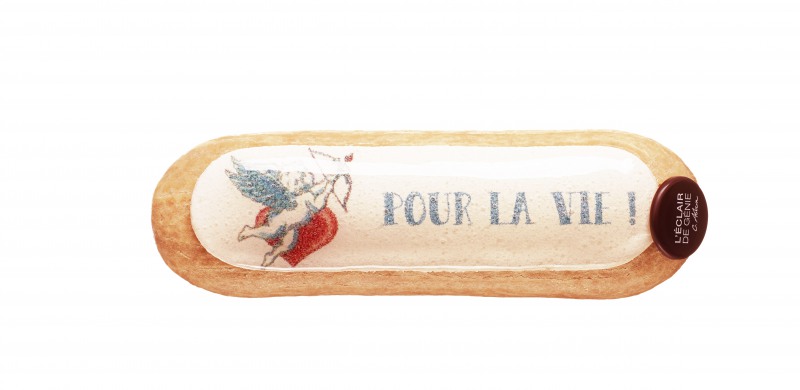 Some Valentine's Day treats for your special one
On St. Valentine's Day it's not just lovers who go all out to impress. The chocolates, cakes and other delicious delicacies can be stunning, too! The Hotel Cristal Champs Elysées presents a selection guaranteed to make your mouth water!
A gâteau to share with your love from Christophe Michalak
This year Christophe Michalak offers an exquisite new Fantastik creation bearing the evocative name, 'Mon Koeur' (My Heart). Crispy milk chocolate and a light and sensual coconut mousse decorated with a creamy dark chocolate makes this fabulous gâteau an intense taste experience. To add the icing on the cake, as it were, 'Mon Koeur'can be personalised. Write your message of love directly onto the balloon and sit it atop this masterful example of the patissier's art. The balloon, naturally, is the red of passion.
A flash of inspiration from Christophe Adam
To declare your love anew, consider the Rock 'n' Roll Tattoo range of eclairs created by Christophe Adam. After choosing your partner's particular favourite (salted butter caramel, raspberry, vanilla or chocolate grand cru), you just have to decide on the colours and personal message you want to convey via the icing on the top. You can also choose the design of the icing. Given the occasion, you'll want to opt for something distinctly romantic, such as a heart, an angel or a cupid ... Once you've placed your order, you can pick it up two days later.
The legendary lovers padlock from Michel Cluizel
Now that you and your partner can no longer share the fun of placing a padlock on the Pont des Arts, why not do the next best thing by sharing the chocolate love lock designed by Michel Cluizel? A heart divided into halves of milk chocolate and dark chocolate is linked by a padlock design along with a scattering of keys, all presented in a kiss-red box. The attention to detail is everything you would expect from this internationally famed chocolatier. Unlock this gourmet treat!