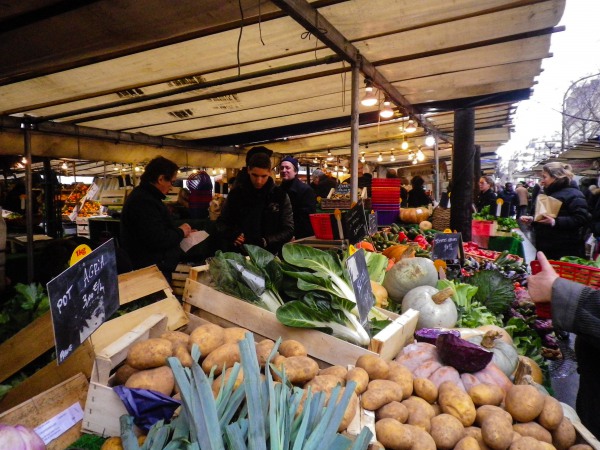 Discover some wonderful Parisian markets during your stay
No visit to Paris would be complete without discovering the bustling excitement and eclectic energy of the traditional Parisian market. While you're enjoying your stay at the Hotel Cristal Champs-Elysées, check out the Aligre market located in the 12th arrondissement, the Batignolles organic market in the 17th and the Enfants Rouges market for a taste of the real Paris.
The Aligre market
Every morning from Tuesday to Sunday, the area in and around the Place d'Aligre is transformed into an exhilarating hubbub of stalls and shops offering all kinds of products (fish, meat, vegetables, fruits, fabrics, home accessories, old books, etc.). A few steps away, in a historic building dating from the mid-19th century you'll find the Beauvau covered market, with stalls such as Sur les Quais (spices and oils), the Boucherie Végétarienne and Langlet-Hardouin ... A much-loved and long standing institution of the capital, the Marché d'Aligre is definitely worth taking the time to visit!
The Batignolles market
The Marché des Batignolles brings together more than fifty producers and merchants who offer a wide variety of organic items. Here you can treat yourself to the freshest and most wholesome of produce, including fruits and vegetables, terrines, jams and wines. In this open air market, which takes place on the Boulevard des Batignolles, there are also traders in organic cosmetics, essential oils, bath salts, etc.
The Enfants Rouges market
Established in the 17th century, during the reign of Louis XIII, the Marché des Enfants Rouges is the oldest covered market in Paris. Located just a few steps from the Rue de Bretagne, this lively market welcomes locals and visitors to the capital, who come to purchase high quality fresh produce (meats, cheeses, fish ...), as well as wine and oysters from the Basque country, Vendée and elsewhere. Make your selection, then take a break on the terrace of one of the many restaurants adjacent to the market to enjoy fresh salads, antipasti, gourmet dishes, etc.
Picture credits: Sam Nabi